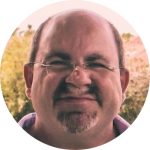 Hey There!
You've landed on the homepage of JoeGrape.com LLC, which is the holding company for my Internet consultancy.
I advise on, and help execute, Internet marketing efforts for solopreneurs and clients of digital marketing agencies.
I have 27 years of experience in all aspects of Internet marketing. That math works out to an industry start date of 1995, back when Yahoo looked like a winner, Mark Zuckerberg was in junior high and Pets.com still had five years of runway before that sock puppet would kill it for good.
I've done a few interesting things too since 1995.
I had my 15 minutes of fame as the moderator of the Online Advertising Discussion List, the first discussion community on the Internet dedicated to the subject of online advertising. The list was a professional haven for a lot of Internet marketing pioneers, like Danny Sullivan, Eric Ward, Steve O'Keefe, Rick Bruner, Glenn Fleishman, and even the likes of Mark Cuban (before he was a billionaire).
I rose all the way to Vice President of Marketing and Client Promotions at The Tenagra Corporation, one of the early online marketing firms.
In 1998 I was recruited away by Andy Bourland and Ann Hanley, back when they owned ClickZ. ClickZ was the first trade publication for Internet marketing professionals. While there I built the ClickZ Forum and compiled the ClickZ Guide To Email Marketing.
I left ClickZ in the spring of 1999 to start BookLocker.com, a self-publishing services company, with my then wife (now business partner). Still going strong today, BookLocker.com broke a lot of new ground in the self-publishing business, including as the lead plaintiff in an antitrust suit against the monopolistic practices of Amazon.com. The case got a lot of attention in the press at the time, and made it all the way to Federal Court, despite the six-figures-worth of lawyers Amazon threw at us. In the end, Amazon backed down before the case went to trial. Incidentally, I applied for a job at Amazon in 1995 but was turned down because I couldn't provide them with GRE scores. In one of those ironic twists in history, had Amazon waived the stupid GRE requirement and hired me back in 1995 they would have avoided a ton of legal fees and negative press.
I decided to step down from the day-to-day of BookLocker.com in 2019 and pursue other interests.
Lately I've focused my attention on:
showing local business owners how to have better visibility in Google.
I have other projects in the works too. I'll post links to them here when I'm ready to make them public.
If you want to find out more about me, check out my Linkedin profile.
Contact me at: richard@joegrape.com